Sabaj A10a 2022 , new Sabaj Amplifier in spring 2022
Sabaj A10a 2022 version is a new product of Sabaj in spring 2022. It is a a powerful and affordable Class D amplifier, based on the use of an Infineon latest digital high-power amplifier chip MA5332M. Sabaj A10a 2022 version amplifier delivers 110W x 2 watts of continuous power Or BTL 225W to your speakers. It's designed to power today's high - power speakers while offering advanced features to help you get the most out of your system. Due to its CNC aluminum shell, temperature control is greatly improved to heat dissipation capacity. In addition, this housing has a nice appearance without compromising on performance or additions of cooling elements. A chassis temperature display is implemented so you can controlled the temperature and sound quality.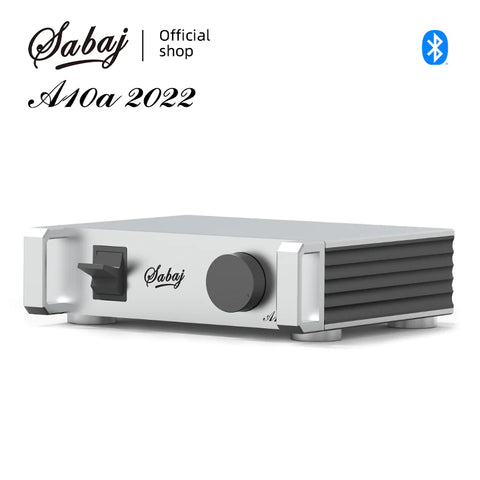 Highlights
Bluetooth 5.0 reception, longer transmission distance, better sound quality!
It can be bridged (BTL) into a single-channel amplifier with higher power to drive large speakers. Or set it to subwoofer mode to drive passive subwoofers.
Built-in low-pass circuit, in subwoofer mode, the low-pass cutoff frequency is adjustable from 70 to 200Hz to match different main speakers.
What's in the box?
1x SABAJ A10a 2022
1x BT antenna
1x Manual
1x Schuko power cable