S.M.S.L D300 Bluetooth 5,0 DAC ROHM BD34301EKV chip XMOS DSD512 PCM768KHZ LDAC decodificador con Control remoto salida XLR/RCA
Features:
Brand Name:
S.M.S.L
Model Number:
D300
DAC Chip:
Flagship Rohm's Flagship BD34301EKV DAC chip
Inputs:
 USB/Optical/Coaxial/Bluetooth
Outputs: RCA/
XLR
PCM Word Length:
32-bit
Dimensions (W x H x D):
208*185*41MM
Bluetooth:
 LDAC, AptX HD, AptX, AAC, SBC wireless transmission support
Output Level: XLR 4.0Vrms(Vol Fixed), 4.5Vrms(Vol Variable), RCA 2.0Vrms(Vol Fixed), 2.3Vrms(Vol Variable)
THD+N: 0.00015%(-116dB)
Dynamic Range(XLR): 127dB.
Dynamic Range(RCA): 125dB.
SNR(XLR): 127dB.
SNR(RCA): 124dB.
Output Impedance: XLR 200Ω, RCA 100Ω
USB Compatibility: Windows 7 and above, MAC OSX, Linux
Qualcomm Latest Bluetooth chip
ROHM's Flagship Audio Decoding Chip: BD34301EKV 
 S.M.S.L has packed impressive performance with the D300 by featuring ROHM's flagship BD34301EKV audio decoding chip at its core. They have professionally adjusted the DAC tuning to take full benefit of it in delivering quality performance. It has full support for high-resolution 32-Bit/768kHz PCM and native DSD512 decoding with the help of an XMOS XU208 high-quality 8-core USB processor. 
 The BD34301EKV DAC chip, developed as part of ROHM's high-grade MUS-ICT™ series representing the pinnacle of audio ICs, emphasizes 'spatial reverberation', 'quietness', and 'dynamic range' – qualities important for reproducing classical music. Original sound quality design technology makes it possible to successfully reproduce the target sound quality by incorporating a circuit in the signal processing block to check for audio quality. At the same time, class-leading low noise and distortion (130dB SN ratio, -115dB THD+N) provide the high performance demanded by high fidelity audio equipment. At last, the customizable digital filter – a key function of the digital signal processing circuit – supports the creation of the ideal sound sought by audio equipment manufacturers.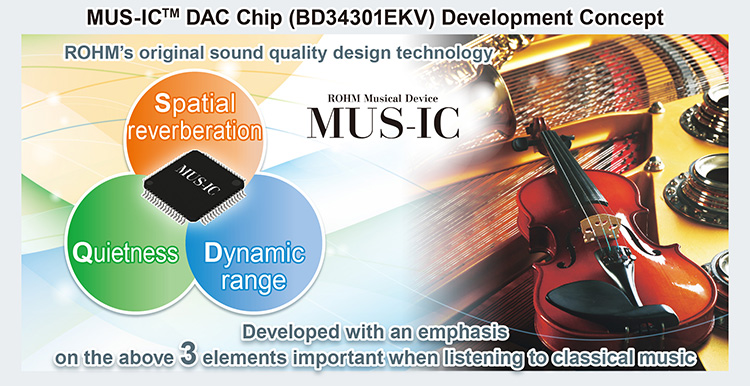 Achieves best-in-class sound quality characteristics ideal for classical music
Customizable digital filter allows designers to tailor the sound to audio equipment
 About SMSL D300: